Posted by Marieke Guy on 17th December 2010
Oh dear, another 'end of' post. Are we going to see a lot more termination of services as the economic situation really starts to hit the Web?
Yeterday news that Yahoo plans to kill off a handful of services (including Yahoo Buzz, Altavista and the bookmarking service Delicious) made it into the mainstream. The source was a internal Yahoo slide showing future plans leaked by a Yahoo employee, Eric Marcoullier. Yahoo have recently had to implement cuts and lay off staff. In repsonse to the leak a company spokesperson explained:
"Part of our organizational streamlining involves cutting our investment in underperforming or off-strategy products to put better focus on our core strengths and fund new innovation."
Delicious is a very well used service. I presonally have been a member for several years and currently have 1295 links bookmarked. The service is embedded in many of my Web pages and on my blogs. For my remote worker blog I have even set up a Google custom search allowing searching of the 300+ remote working urls I have collected. The JISC Beginner's Guide to Digital Preservation also has 300+ urls associated with it.
We are all aware that Web 2.0 services come and go and that this has many implications for digital preservation. The JISC PoWR project took a look at related issues and offered a set of pragmatic guidelines on the approaches we can use to safeguard our data. Here is a chance to put theory into practice…
On hearing the news about Delicious my initial reaction was one of panic…all my urls would be lost! This isn't actually the case. The termination of the service has yet to be confirmed and already several campaigns have sprung up (act.ly, save delicious, …) petitioning to save the service. Also one would like to believe that if the service is to be terminated users would be given advance warning on a switch off date which will give them the opportunity to get their data out. Whatever happens it makes sense to take action to protect any investment you have in Delicious.

Exporting Data
Delicious has an Export / Download Your Delicious Bookmarks feature. This is available from the Settings tab, under the bookmarks subheading. This will allow you to save the generated page (as HTML) and import it into your browser, or anything else that accepts bookmarks in a standard format. Save the delicious html file somewhere safe.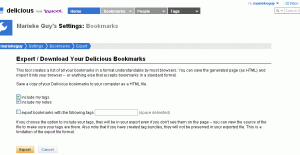 Although this now means that you have a copy of your urls (which is a step in the right direction) you really need to import them into another bookmarking service to make use of tags, bundles and other functionality.
Lots of people are turning to Diigo (there is a page on how to import bookmarks from Delicious), other options include Connotea, Citeulike, Trunk.ly and Stumbleupon – a more comprehensive list is available from Wikipedia. SearchEngine Land have also compiled a list of their 10 best alternatives to Delicious.
Web pages that use Delicious
Some though also needs to be given to the other ways you use Delicious – in Web pages, on blogs etc. Untill the confirmation that Delicious is going it seems a little early to act here. Diigo can do most of the things Delicious does, so it will be a case of using it from now and and at some point changing all embeds. What I personally will be doing is compiling a list of the places in which I currently use Delicious. All very time consuming and maybe something I should have already been doing?
Digital preservation of Web 2.0 services is an important area but not something people have given much consideration to in the past.
It seems that there may suddenly be a lot more case studies for us to consider…
Tags: delicious
Posted in Case studies | 3 Comments »