Posted by Marieke Guy on 27th October 2010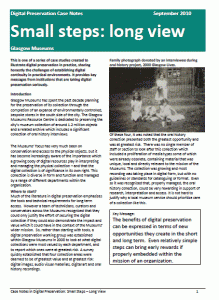 The Digital Preservation Coalition (DPC) have just released a new case study – Small Steps: Long View – in its case notes series. The case study is available as a PDF.
The case study, prepared by Tracey Hawkins, looks at the Glasgow Museums approach to its large and growing digital collections. It considers how the museum service turned an oral history headache into an opportunity and describes how some simple steps in addressing digital preservation have created short and long term opportunities for the museums. The museums have used some very traditional simple and well know approaches – creating an inventory, assessing significance and promoting access – as the basis for building confidence to manage the wider challenges they face.
The benefits of digital preservation can be expressed in terms of new opportunities they create in the short and long term. Even relatively simple steps can bring early rewards if properly embedded within the mission of an organization.
The collection of case notes are available from the DPC site.
Posted in Project news | Comments Off