Posted by Marieke Guy on 30th April 2010
There are two JISC related digital preservation events coming up that I'm planning to attend. I'll be hearing about the latest digital preservation initiatives, networking and posting trip reports afterwards.
Firstly there is next Thursday's Blue Ribbon Task Force event on Sustainable Digital Preservation and Access. At the event the Blue Ribbon Task Force will be presenting their final report Sustainable Economics for a Digital Planet: Ensuring Long-term Access to Digital Information.
Secondly the 2-day Survive or Thrive conference taking place on Tuesday 8 – Wednesday 9 June 2010 in Manchester. There are still places available for this conference and details below.
Survive or Thrive: Making the most of your digital content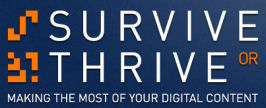 The growth of digital content and use of content on the Web has been rapidly changing over the past decade. The digital deluge poses opportunities as well as challenges. How best are they both to be exploited and managed?
The Survive or Thrive 2010 Conference is being organised by UKOLN is organising the on behalf of JISC to address the questions on this subject that will be of interest to people who have a stake in providing content for learning, teaching and research. This includes policy makers, senior managers, information specialists and technical managers or developers, from both the public and commercial sectors.
Survive or Thrive 2010 will take place at the Macdonald Hotel, Manchester over Tuesday 8 – Wednesday 9 June 2010. It will seek to address a variety of questions including:
How do we exploit the value of distributed resources? – linked data,
geospatial tagging, metadata, etc?
In terms of scale, what are the issues and barriers? What does working
at Web scale mean and offer?
What are the issues and opportunities for opening up content?
How do we effectively and efficiently meet the needs of users and
taking the best advantage of the available technologies? – for example,
personalisation?
How do sectors work together? Education, the cultural heritage sector,
engaging business and community and the public and private sectors?
What role should strategic agencies play?
Conference Aims
The aim of the conference is to bring together a community of experts to provide a focus on the above questions. This will support the identification of the key approaches that universities, colleges, the cultural heritage and public sectors can pursue to support education, research and the wider knowledge economy.
Speakers
Programme
Arrangements are well forward and a draft programme is already available.
Registration
Registration includes all refreshments, lunch and dinner at the event. It also includes a night's B & B accommodation. To book your place go to:
http//asp.artegis.com/SurviveorThriveopeninvitation
If you have any queries please do not hesitate to contact:
Natasha Bishop and Michelle Smith
UKOLN Events Team
Tel: 01225 384488
Email: events@ukoln.ac.uk
Web: http://www.ukoln.ac.uk/events/

Posted in Events | Comments Off