Posted by Marieke Guy on 27th August 2010
So where does the future of digital archiving lie? According to Steve Bailey it's in Google's hands.
This answer has sparked off some discussion on the records management JISCMail list, firstly about whether this is truly the case, and if so what it means. So let's you peel back the discussion and start at the beginning by watching Steve's excellent talk given at the 8th European Conference on Digital Archiving, 28 – 30 April 2010, Geneva.
A warning: the talk is excellent but unfortunately the embedded video isn't very user friendly and won't allow you to enlarge it or watch it from a specific point. Any mishap and you're back to the beginning again. It's all or nothing so set aside 20 minutes for this one!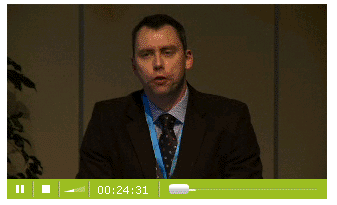 The presented paper (there are no slides) starts of with a hypothetical analogy. Imagine if Samuel Pepys, the 17th century diarist, had had to rely on individual businesses to store and preserve his maps, his notebooks, his vellum manuscripts and so on. These were businesses that dealt with individual formats and had little interest in the content of Pepys records. Luckily this wasn't the case and much of what he wrote has been recorded by the National Archive.
Bailey points out that we now find ourselves in a world where the reponsibility for archiving much of our office 2.0 documents lays at the feet of 3rd parties. Documents are stored according to format and regardless of their communality of content, text documents are now stored on Google docs, videos on YouTube, photos on Flickr and so on. Although cloud services have brought us much flexibility they have left us with a Pandoras box, 'no regard for preservation' is one of the evils that has flown out. They are externally hosted services with very different agendas from ours, they may notify us if they are going to delete all our content but they don't necessarily have to so. The title of Brian Kelly's post 5 Days Left to Choose a New Ning Plan is enough to show that there may be very little time in which to rescue your digital objects.
And so Bailey concludes that the future of digital archiving lies with Google.
Bailey also outlines this theory in a post on his Records management futurewatch blog – Is the Cloud aware that it has 'the future of digital archiving in its hands'?
For him it is not a case of whether this is the right place for it to lie, it is just so.
"It is at this point perhaps worth pausing to note that the question I have just offered an answer to is not in whose hands should the future of digital preservation lie, but in whose hands does it lie – a very important distinction indeed"
At another point he says:
"Once again, I do not say that this is right or wrong, foolish or wise – simply that it appears inevitable and that we would do well to prepare ourselves for it."
Steve asks us to hold back from lamenting about this situation and consider in engaging in a dialogue with cloud based service providers. He offers a possible four point plan that might help us:
Taking a risk management approach to choice of Web 2.0 services – look at issues like IPR
Consider what to do if your provider closes down, have a back up strategy
Work with service providers to establish ways of searching information (this looks at areas like retention schedules)
Consider asking Google if they are happy to fulfil this role
Much of this rings true with work we have carried out at UKOLN on projects like the JISC Preservation of Web Resources project. The final point is an interesting one though.
"Perhaps we should actually stop to ask Google and their peers whether they are indeed aware of the fact that the future of digital preservation lies in their hands and the responsibilities which comes with it and whether this is a role they are happy to fulfil. For perhaps just as we are in danger of sleepwalking our way into a situation where we have let this responsibility slip through our fingers, so they might be equally guilty of unwittingly finding it has landed in theirs.

If so, might this provide the opportunity for dialogue between the archival professions and cloud based service providers and in doing so, the opportunity for us to influence (and perhaps even still directly manage) the preservation of digital archives long into the future"
Bailey even suggests the possible maintenance of a public sector funded meta-repository "within which online content can be transferred, or just copied, for controlled, managed long term storage whilst continuing to provide access to it to the services and companies from which it originated".
In reply someone from the Records Managers list makes the following point:
"In terms of where the future of digital preservation does lie, I doubt it is with the major providers in part because that it not their business case. Just as newspapers are not in the archive business, (although they may have archives) neither are the web service providers (yet) in that business. The challenge is that archives as opposed to storage, is guided by the key question of who and why. To archive something is based upon a distinct community fixed in time and space. Archives as opposed to mass storage has to work by what it refuses as much as by what it includes".
The cloud may be a mass storage device but it is not yet an archive.
So it seems that the future of digital archiving continues to lie in the hands of those who care about it – the records managers, the archivists, the librarians, the JISC project managers – it is just that they now need to either include others in the dialogue about how to preserve digital objects or (and a part of me thinks this is the more realistic approach) think in a more lateral way about how you continue to preserve when you've lost control of your digital objects.
Other interesting posts/articles relating to preservation and the cloud include:
Digital preservation: a matter for the clouds? by Maureen Pennock, British Library
Duracloud – A hosted service and open technology developed by DuraSpace that makes it easy for organizations and end users to use cloud services. DuraCloud leverages existing cloud infrastructure to enable durability and access to digital content.
Posted in Archiving | 1 Comment »