Posted by Marieke Guy on 8th May 2012
The Digital Curation Centre (DCC) has has recently updated their catalogue of tools and services for managing and curating research data.
The catalogue is available from
http://www.dcc.ac.uk/resources/external/tools-services
This is more than a new look; the catalogue has been overhauled to focus on software and services that directly perform curation and management tasks. It splits these resources into five major categories, based on who the intended users are and what stage of the data lifecycle they will be most useful in.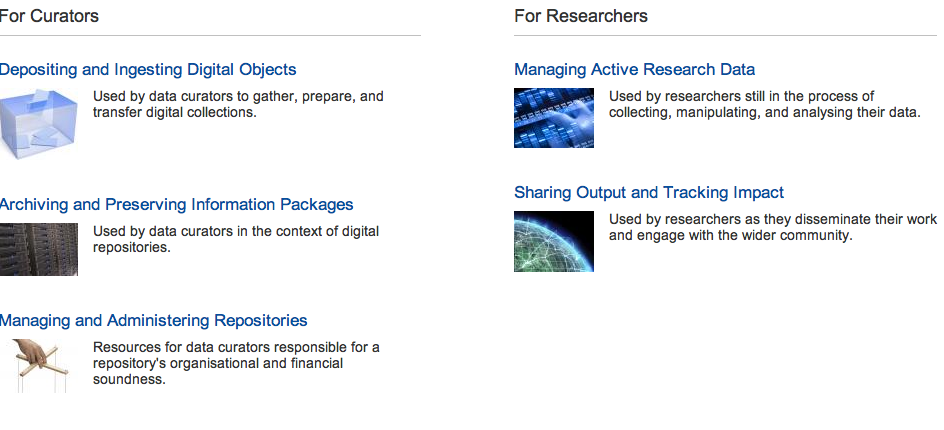 There is a category for Archiving and Preserving Information Packages with sub categories including:
Access Platforms – Tools to publish content and metadata to the web.
Backup and Storage Management – Tools to coordinate responsible storage and preservation strategies.
Creating and Manipulating Metadata – Enriching object descriptions and standardising records.
Emulation – Re-creating obsolete software environments to access old formats.
File Format ID and Validation – Defining and validating digital files.
Metadata Harvest and Exposure – Using OAI-PMH to share records across repositories.
Normalisation and Migration – Transferring digital materials into preservation-friendly formats.
Persistent ID Assignment – Creating unique identifiers for digital objects.
Repository Platforms – Enabling deposit, preservation, and access to digital content.
Sub-categories contain tables for quick comparison of tools against others that perform similar functions, linked to in-depth descriptions of how the resource can help.
This resource will evolve; if you have suggestions of tools to add please send them to info@dcc.ac.uk