February 11th, 2009 —

Marieke Guy
On Monday the Good APIs project team headed down to the JISC Developer Happiness Days (dev8d) launch at Birkbeck, University of London.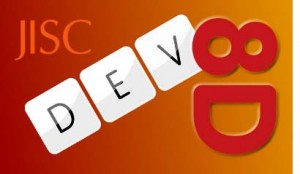 This 5 day event is JISC's attempt at getting a lot of educational software developers together to pool ideas and take part in a developer decathlon: a two-day team coding session with prizes for the best code.
On the Monday night there was a kick-off party where Dave Flaunders explained the decathalon rules and what the event was all about. There was then a TechTalkShow hosted by Paul Walk which was a debate forum for relevant issues.
After a good social outing in the many of us headed back to our accommodation. JISC offered free beds for developers at the Palmers Lodge hostel.
In the morning there were a number of lightening talks on coding methods before the launch of the decathlon.
During our time at dev8d  the Good APIs team managed to have some really useful chats with people about where they want software development to go in the education world, and how they feel JISC could help take them there. Most were very excited to have been given the opportunity to spend such a big chunk of time " just making stuff" and realise that JISC is keen to put money into this area.
There are lots of great resources from dev8d including some really interesting five minute interviews on the blog.