Posted by Marieke Guy on March 29th, 2010
The last in the series of thirteen MLA/UKOLN workshops on Web 2.0 and the social Web took place last week.
The UKOLN/MLA Web 2.0 Workshops
The workshops were funded by the MLA to enable museums, libraries and archives staff to get up to speed on the concepts behind Web 2.0, the challenges it presents and the opportunities it offers to cultural heritage organisations, including small organisations with limited budgets and technical expertise.
Thirteen
Thirteen workshops took place in venues all over England. An online map of the location of the workshop venues is available.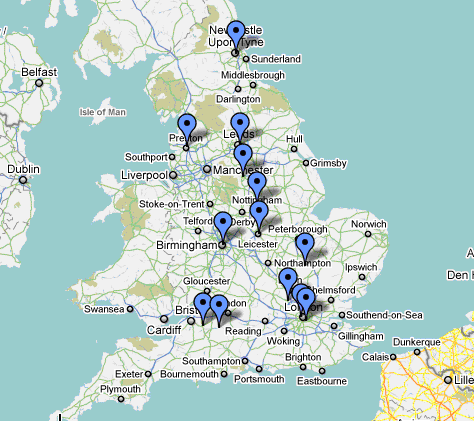 Links for the main page for each workshop are given below:
Thank you to all our host venues!
Two hundred and forty-two
242 delegates attended the workshops. The workshop programme included: presentations introducing and discussing Web 2.0/social Web, case studies from local practitioners, (if the venue allowed) a chance for delegates to try the tools out for themselves on laptops and PCs, an opportunity to discuss the issues and time for delegates to chat to their peers over a free lunch.
One hundred and twenty-seven
While the workshops were running we managed to take quite a few photos (127 in total) of the venue and delegates at work. These photos are now available on Flickr.
Why not have a look at the slideshow or the selection used in an Animoto slide video (now on YouTube).
Nineteen
We were lucky enough to have 19 case studies given by local practitioners during the workshop series. Most of their presentations are online and out there for you to use – have a look on the corresponding workshop page.
Preston – Web 2.0 at Huddersfield: Dave Pattern, University of Huddersfield Library
Devizes – Wiltshire Heritage Museum Case Study: Google Books, David Dawson, Wiltshire Heritage Museum
London – Museum of London Social Software, Bilkis Mosoddik, Museum of London
Leeds – Artspace and Artspace Online – Attempting to support users in the practical space with the virtual space, Dominique Attwood, ELearning Leeds Museums and Galleries
Leeds – Follow Alex – Facebook and engaging with young people about culture, Dominic Burton, Marketing Officer, Libraries, Arts and Heritage, Leeds City Council
Leicester – Using Social Networking on the Museum Studies distance learning course, Ross Parry, University of Leicester
Dulwich – Dulwich OnView Case Study: Ingrid Beazley, Steve Slack, Angie Macdonald, Yang-May Ooi, Dulwich OnView
Newcastle – Making Heritage More Engaging, Janet E Davis, Museum Consultant
Newcastle – Democracy, Jim Richardson, Sumo
Newcastle – Geek inside and BALTIC, David Coxon and Craig Astley, BALTIC
Chelmsford – The Essex experience, Janice Waugh, Essex Libraries
Birmingham – Birmingham Libraries 2.0, Jen Bakewell and Matthew Jelfs, Birmingham City Library
Sheffield – Web 2.0 at Sheffield Library, Karen Wallace Sheffield Library
Bath – Communicating with the Facebook generation, Nicola McNee, Librarian, Kingswood School
Bath – Me and my blogs, Ann Chapman, UKOLN
Bath – Twitter at Reading, Peter Barnes, Corporate Information Systems Group, University of Reading
Nottingham – Confessions and Lamentations: Social Web at the University of Leicester Library, Gareth Johnson, Document Supply & Leicester
Cambridge – The UL on Twitter, Emma Coonan, University of Cambridge
Cambridge – To 'fb'…. or not to 'fb', Libby Tilley, University of Cambridge
Thank you to everyone who came and presented!
One hundred and ten…and counting
Over one hundred URLs have been bookmarked on Delicious that are relevant to the workshop subject area. More are being added by the day.
To support the workshops a number of complementary materials were created and utilised. All materials are available under a Creative Commons Attribution-NonCommercial-ShareAlike 2.0 licence. The workshop materials are available from the individual workshop pages.
Please do use the materials available with your teams and pass on details to any one interested.
Priceless
After the workshops had taken place we solicited feedback from delegates using a Google docs evaluation form. Thank you so much for your constructive comments, we really appreciate the positive feedback and did our best to take on board the suggestions made.
We hope we helped people feel positive in a practical way about what Web 2.0 can offer them. As one workshop delegate said:
"I was inspired and several days later am still excited about the web 2.0 possibilities opening up for my organisation. It was one of those training days where you reflect and say "that made a difference".
We will be running a new series of workshops for the MLA on related areas.
Keep an eye on this blog, the Cultural Heritage events RSS feed and the Cultural Heritage Twitter feed for details.