Posted by Brian Kelly on 11th June 2009
I was pleased to have been invited to speak at the annual conference organised by the Association of Independent Museums (AIM). The AIM 2009 conference was held at the National Waterways Museum, Ellesmere Port with the theme of "Volunteering in the Independent Museum".
My talk, entitled "Benefits of the Social Web: How Can It Help My Museum?", fitted in nicely with this theme in exploring ways in which social networking services could be exploiting by museums, in particular small museums with limited resources and technical expertise.
My  slides, which are available on Slideshare and embedded below, provided a number of examples on how the Social Web is being used by a number of cultural heritage organisations.
My talk concluded by mentioning some of the challenges which need to be addressed in order to make effective use of the Social Web. In the afternoon I facilitated two hour-long workshop sessions which provided an opportunity to discuss these challenges in more detail.
One particular challenge which was raised in both sessions was how does one choose which service to engage with, as there are so many options available. :I suggested that one important technology to explore was RSS (Really Simple Syndication) as this would enable content on a small Web site to be made available (syndicated) elsewhere, either on other Web sites or on mobile devices. And a good way of gaining a better understanding of RSS (which many participants appeared to be unaware of) was to make use of a simple RSS reader such as Netvibes or PageFlakes.
Use this, I suggested, to view relevant RSS feeds which might include resources from similar museums which are already providing RSS feeds, resources from funding organisation, blog posts form the msueums sector and even areas of personal interest (the BBC news site provides a range of RSS feeds). And once you have appreciated the benefit of dynamic content coming to your rather than having to visit Web sites to see if anything new is available you should then be motivated to create RSS feeds for your own institution. And if you're still unclear as to how Netvibes can be used, have a look at the Netvibes page which brings together dynamic content about UKOLN's cultural heritage resources, which is also illustrated below.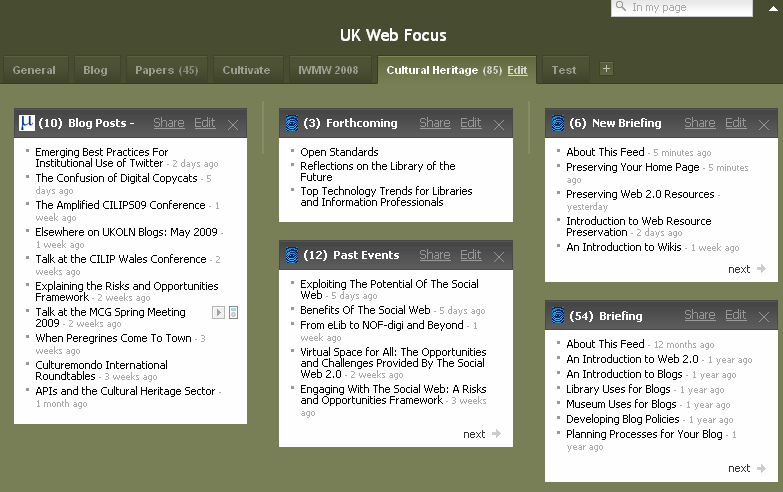 But how would you go about creating RSS feeds? One approach is to make use of Socuial Web applications such as blogs and resources sharing services (e.g. Flickr) as these will normally provide RSS feeds or other syndication mechanisms as standard.
Further information is provided on UKOLN's Cultural heritage IntroBytes briefing documents, which include documents covering syndication technologies, blogging, micro-blogging and social networks.
Finally I should add that a video of my talk is available on the Blip.TV video sharing service and embedded below. The file is also available from the UKOLN Web site.

Tags: aim09
Posted in Events, Web 2.0 | 1 Comment »