Posted by guestblogger on May 18th, 2009
Our last guest blog post highlighted a case study presented at a UKOLN workshop for Renaissance West Midlands. This month we feature a guest blog post by Nick Moyes, Senior Keeper of Natural Sciences at Derby Museum and Art Gallery which expands on a case study Nick presented at a UKOLN workshop on Exploiting the Potential of Web 2.0 and the Social Web which was organised on behalf of Renaissance East Midlands.
---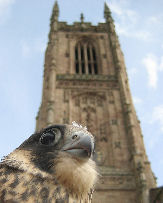 When the world's fastest creature sets up home in the heart of your city, people take notice. And so it was that when a pair of peregrine falcons (
see Wikipedia
) started making futile attempts to nest on the narrow stone ledges of Derby Cathedral's ancient tower, something had to be done.
I was honoured to be invited to write a guest piece for this blog. I only recently discovered UK Web Focus and was, to be frank, a little intimidated by its academic content. Nevertheless I find it to be an extremely useful source of information and ideas in this new world that some call "Web 2.0". I don't call it that; I call it getting the job done. So here's my tale of what we did when peregrines came to town, and how we used web technologies in a project that grew beyond our wildest expectations …
Nest Platform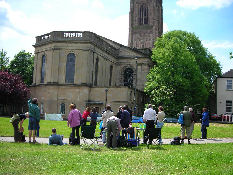 What we did when the birds arrived was simply to abseil down and install a wooden platform for them to nest on (see YouTube video). Well, perhaps "simply" is not the right word. This was back in the spring of 2006 and the birds took to it almost immediately and were soon incubating eggs. Word got around through the usual means: newspaper, local radio, wildlife e-groups. And as the three chicks were being raised during June of that first year, so thousands of people came out to watch them during lunch hours or at evenings and weekends. With telescopes provided at Watchpoints run by our local Wildlife Trust. It became quite a social gathering each lunchtime to stand and "talk peregrines" with complete strangers, swapping tales of what we'd seen or what might happen next. Some of that talk inevitably turned to installing web cameras and whether our partnership of Derby Cathedral, Derbyshire Wildlife Trust and Derby City Council's Museum Service could actually do it.
Web cameras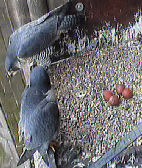 By the start of 2007 we had a plan. We would buy and install the cameras, cabling and video server ourselves, leaving our Council's IT support company to do just the essential network configuration. This would send (FTP) images to a third party hosting organisation, because our own networks had neither the bandwidth capacity nor the security policies for us to do this ourselves. We would also try running a blog to report back on progress as we abseiled, crawled, sweated and swore our way through the whole process, eventually (we hoped) reporting solely on the progress of our peregrines as we watched them through our nice new cameras. We had of course written a business case and gained the necessary permissions. We argued that we would create new audiences and promote what had already become a small eco-tourist attraction, perhaps generating 30,000 or more web hits in our first year. How naïve we were.
Blogging
I knew nothing of blogs back then, and nor did our local authority. There were certainly no policies on them at the time, but a suggestions from one of our e-business staff led me at first to open a MySpace account. But this didn't look good, so Google's Blogger was tried instead. It was perfect: simple to use, had clean lines, easy photo upload and blog archive and a comments facility, with all the admin controls I thought might be needed, plus the ability to include some of our corporate colours into the blog's template. Later on, Google introduced video uploads and scheduled blog-posting too. It couldn't have been much better, so now the Derby Cathedral Peregrine Project had a means of communicating topical information from all three of the partners 24 hours a day, as well as via a more traditional introductory "peregrine project homepage" on our council's own web site. Very soon we gathered followers. When local TV broke news of eggs being laid and new web cameras going live they peaked at 1,000 a day. From that moment they haven't stopped coming.
Breeding Success
In that first year we had over 270,000 hits to our combined webcam pages and blog followed by 430,000 in 2008.As well as innumerable video clips and interviews in local TV, radio and newspapers, we've appeared in BBC's Springwatch and regional TV's component of Alan Titchmarsh's BBC series on "The Nature of Britain". In 2008 we were even approached by an independent company wanting to produce a commercial DVD about the project. This helps raises much-needed funds. With four eggs now hatched, and with fledging due around 6th June 2009, we might even be on course for 2/3 million visits during 2009. Our blog alone can peaks at over 9,000 visits a week from people wanting to catch up on all the current news and photos, with our Clustr maps archive showing a strong European and North American readership, as might be expected.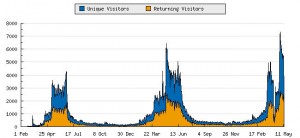 So great were our webstats submitted under the now-superceded system of "Best Value Performance Indicators" reported by local authorities, that the Audit Commission even questioned their veracity. After much high level debate they declared our figures unsuitable for reflecting website usages by museums. Had it been a stuffed peregrine, fine. But this was a live bird – so how could it be seen as valid for a museum to report on that, they argued. A fair point, perhaps. After all, "Best Value" was designed to allow for fair comparison to be drawn between similar types of service across different local authorities, so maybe exclusion was sensible. But when it was suggested locally that this decision might put the viability of the whole project into question, then alarm bells did begin to ring. I feared this could be a case of the statistics-gathering tail wagging the audience-focussed dog. But common sense prevailed and we've since been fully supported in our work, especially so after being able to demonstrate that we draw many thousands more visitors into our main websites each summer and that our project contributes towards some of our authority's Corporate Priorities, too (see report, PDF format).
With evidence emerging of visitors coming to Derby specifically because of its peregrines, from as far afield as Hong Kong and Toronto, we see this partnership project really is becoming an unexpected success story. Perhaps two viewers' comments reflect its value best of all:
"Just want to say a huge thank you for this fascinating and gripping project. We did . . . actually come to Derby, but as I am ill and not able to get out much especially not able to see much wildlife, this really has been a lifeline to me. Thanks xxx Penny"
"I am learning so much about peregrins through reading the blogs. Even got my grandchildren interested. One of the youngest ones has gone away today with the web address – bless him. Going to keep looking today to see if I may catch the 3rd egg [being laid]. Hope so, as someone else mentioned, this is better than TV. Joy"
It has probably been the peregrine blog, with its liberal scattering of close-up nest photos and video clips that makes our project so different from most other wildlife webcams around the world.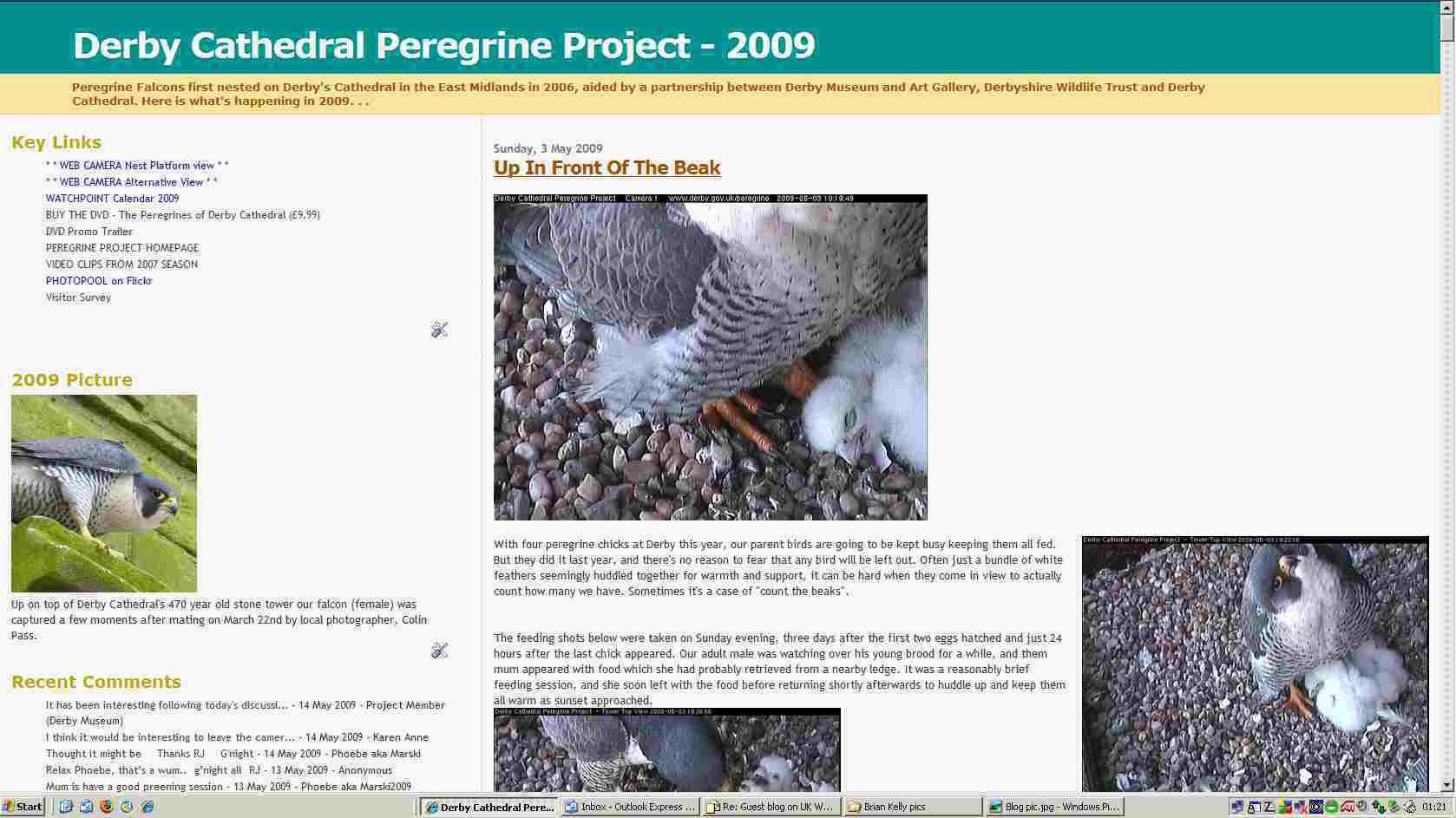 We didn't set out to do it, but we've somehow created a global community of wildlife enthusiasts who see something special in what's happening in Derby, and many now follow it closely. With the project partners writing frequent and regular contributions throughout the breeding season and beyond, that engagement has been a two-way process and is now almost self-sustaining. Webcam viewers leave short comments to report what's been seen on the three cameras; but many ask questions and others respond to them. It can even be self-policing, with readers asking others to refrain from commenting on non-peregrine related topics (the Obama elections in 2008, for example). The project partners do respond to comments, but we try to maintain a modicum of anonymity whilst at the same time writing in a personable and informative style. – this is a peregrine project and a partnership, not a personality trip for those who set it up, though sometimes it's hard not to get carried away with the vibrancy and enthusiasm generated.
The number of readers, plus the fact that we write on behalf of a partnership, means that we're acutely aware of the need to write responsibly. With so much of this project run from home and in our own time it could be all too easy, late on a Saturday night after a glass of wine, to make some inappropriate or ill-thought out remark on a blog. It's a sobering thought to realise how many people watch and care about what we say; or what the consequences of inappropriate remarks could be.
Is There a Risk?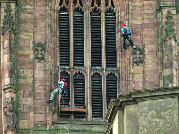 Compared to killing ourselves whilst abseiling, the risks of being the first to use social networks in our partner organisations may seem rather small. But they do exist.
The use of web tools like Blogger, YouTube, Flickr and especially newcomers like Twitter can leave one exposed to an employer having concerns about what one is doing if they've not been fully authorised, or if policies on the use of social networking sites are still in a state of evolution. They certainly get the job done in a way that traditional in-house resources can't and it could be argued that the not inconsiderable benefits can outweigh most potential concerns. Of course, the survivability of these do-it-yourself services can also be called into question when created by staff using personal accounts. Having now given copies of relevant user names and passwords for these Web services to our central Web team, I feel this makes what we do far more robust, and not more threatened.
One of the risks of not get involved in social networking sites is that others may well try to do it for you. Cyber-squatting on social networks might be seen as a compliment, but when it happens you'll have no control over content. In one fortnight in March we found that two Facebook accounts and one Twitter account had been created in the name of our Peregrine Project, and some looked reasonably official. Currently unable to counter with approved accounts of our own, we simply accept there's little we can do for the time being and hope these pages will be maintained and managed in a way that doesn't harm the image of our project. Time will tell.
With our own blog comments left unmoderated, but with "word verification" required for anonymous contributors, virtually all spammers are excluded from our blog. Our only problem has been when strongly worded comments are left by those who race or display pigeons. Not surprisingly they hate peregrines with a passion, and we do have sympathy for their frustrations when birds are taken. So far we've allowed such comments to remain, only deleting a few really unpleasant remarks from both sides of the argument, but we're not afraid to close a discussion thread once the matter has been aired enough. With 50 to 100 comments for many new posts, it can seem more like a discussion forum than a blog at times.
We recently – and rather carefully – launched a Flickr group pool, allowing viewers (who we ask to agree to abide by our Rules) to upload and share webcam screenshots which we can rapidly embed into our blog, avoiding the need for us to capture and upload them ourselves. In our first week we had 250 pictures posted by over 50 new members, and we ask everyone to take responsibility for removing any inappropriate comments left by others against their pictures.
We are putting so many high quality videos on YouTube for embedding in the blog, that I've started to worry that we're flooding the site with simply too many clips of similar content. So Blogger's own video uploader is used to keep the less interesting clips within the blog's pages. The down-side of YouTube and Blogger is that most schools are barred from visiting the sites and so a valuable educational resource is not available to them. We're now looking at developing other, more accessible educational resources, including museum-based school classes.
The Future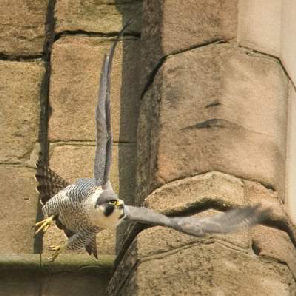 We did not set out to "fly under the corporate radar" at Derby. Indeed, the Peregrine Project started using web technologies before the issues began to be addressed at a corporate level. Schemes like ours can demonstrate the value of social networking tools in building and engaging with totally new audiences (and maybe even contributing to a city's image at home and abroad). But when you realise that, as an employee, you are standing in the firing line for breaching any number of constantly evolving IT policies, it can be a worrying time. Even this guest article has been seen by senior staff in my authority and, to be honest, I welcome that. At a time when policies on blogging and other social media are still under discussion it is important to work with the system, and to explain to everyone what we are trying to do. Improved customer service can only be the eventual outcome, even if the wheels of local government do tend to move at a slower pace than those of smaller, independent organisations.
Within the libraries and museums sector the value of being able to use developing web technologies is clear for most of us to see. It's probably also the least threatening platform from which they could be introduced by local authorities because cultural services attract such positive press and public support. It is unlikely we would be used as a soapbox for disgruntled local taxpayers to air a grievance; they would find better ways.
But I do wonder if there is an even greater role for UKOLN here, not only in continuing to collate and promote examples of good practice within our sector, but also to put more emphasis on supporting and providing the necessary evidence and background information to the key policy-makers within local authorities. They will not be intimately familiar with what we do, so perhaps we should help them understand it better. It is they who will decide what is permissible; it is up to us to demonstrate what is possible.
As for the peregrine falcon, well, it is a remarkable species that has risen from the brink of extinction in just 60 years. This has been a success story indeed. And for me, the rise of technology that lets us share this creature's life and intimate moments with a world-wide audience has been almost as awe-inspiring.
Nick Moyes, Senior Keeper of Natural Sciences at Derby Museum and Art Gallery, England and a 24hr-a-day wildlife enthusiast.