JISC Developer Days, University of London Union, London, 24th-27th February 2010
Following straight on from the 'Linked Data Meet-up 2', I was immediately into the JISC UKOLN Dev8d Developer Days (http://dev8d.org/) held at the same location. Although I may be considered to be a little biased given I work for UKOLN, I have to say I was mightily impressed by this fantastic event. The details that went into the organisation, as well as the multitude of original ideas to enhance the event were well beyond anything I've seen before.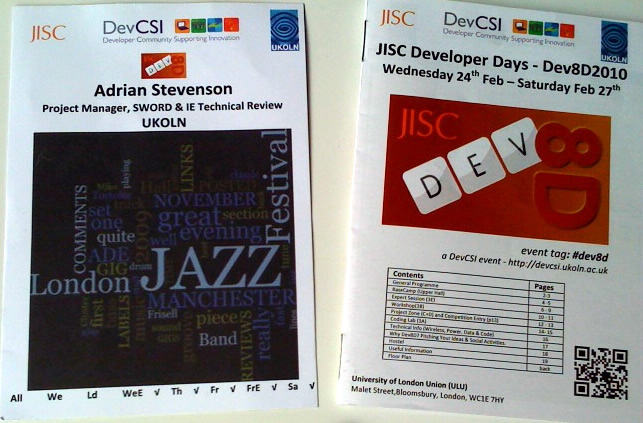 I was mainly there to get a few video interviews, and I've included these below. It was great to chat to Ed Summers from the Library of Congress who passed on his usual code4lib to attend dev8d, and gave us a few comments on how the events compare. It was also exciting to hear that Chuck Severance is intending to enhance the degree course he teaches on back in the US, using things he's learnt at dev8d. All the interviewees clearly found the event to be really useful for creating and collaborating on new ideas in a way that just isn't possible to the same degree as part of the usual working week. Just walking around the event listening in to some of the conversations, I could tell some great developer brains were working optimally. The workshops, expert sessions and project zones all added to the overall effect of raising the collective intelligence a good few notches. I'm sure we'll hear about some great projects arising directly from these intense hot housing days.
You can get more reflections via the dev8d and JISC Information Environment Team blogs.