Project Sunflower: Devices for Research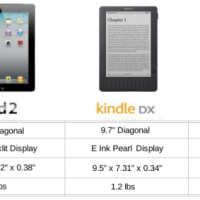 There are a large number of eReaders currently available in the market. We have chosen three devices, one with an E Ink display and the other two with LED displays, each running on a different operating system. Amazon Kindle DX, Apple iPad 2 and Motorola Xoom are three devices we will be using. The Kindle DX runs on Linux, iPad on iOS and the Motorola Xoom on Android 3.0.
Amazon Kindle being a dedicated eBook reader has capability to read eBooks by default, without requiring the installation of an eBook application. iPad and Xoom being tablet PCs primarily, require an additional application to be installed that allows the device to render eBooks. We will be considering the native applications that are developed specifically for the device.
Apple iPad
iBooks is the default application for reading eBooks on the iPad. It is free to download from the Apple App Store, and allows in-app purchases. The iBookstore has over 200,000 eBooks available for purchase, with some free ones. There are other eBook apps too, such as the Kindle app and many more.
Motorola Xoom
Google Books is the default application for reading eBooks on Android devices. However, due to publisher restrictions, Google Books is not available to users in UK (yet). The Kindle app for Android works just fine, though you need to have an Amazon account. The other eBook apps rated highly in the Android Market (Android's App Store) are mostly paid.
Amazon Kindle DX
The Kindle is a dedicated eBook reader. Books are directly displayed on the homescreen, where you can start reading immediately. You can purchase books from the Kindle Store. Most of the books also have a free sample that Amazon wirelessly transfers to the device, allowing you to read the beginning of the book and then decide whether to buy it or not.