Posted by Brian Kelly on January 25th, 2010
The importance of metrics on use of Social Web services can be gauged from the popularity of Seb Chan's workshops in this area. Such interest may be due to the legitimate requirements for the providers of such services to observe how the services are being used. But in addition pressure from civil servants who need to respond to a New Labour fixation with targets and metrics seems to be leading to a requirement for the provision of such statistics for monitoring purposes. So although the usefulness of such metrics may sometimes be questionable there is a need to recognise that in today's financially troubled times, the funders and the policy makers call the shots!
As part of UKOLN's series of workshops for the cultural heritage sector we have been asked to run sessions which cover use of blogs and related technologies as there is increased interest in this area. UKOLN has run a number of workshops in this area over the past couple of years, so we are well placed to use existing materials to support
these events. However we have previously not covered approaches to evaluating the success of blogs to any significant extend, beyond suggestions for surveys of the user community.
In order to address this gap we have started work on exploring approaches for gaining factual evidence which has some relationship with effectiveness of blog in fulfilling their purpose which can be used to satisfy the needs of external auditors.
Statistics such as the numbers of posts and comments and the total number. of pages may be some obvious statistics which should be east to obtain, without significant resource costs. Of course if an emphasis is placed on such statistics in isolation there may be the temptation to publish additional content simply to artificially boost the statistics. However such an approach may lead to users no longer wishing to read such posts so there may be an argument that such temptations would be self-correcting.
But perhaps a better may would be to make use of existing external services which monitor the blogosphere. So rather than spending (non-existent!) public sector funding in developing solutions in-house it may be preferable to make use of the existing infrastructure – and perhaps accept the limitations of such services.
Initial work investigated the tanking statistics provided by Technorati.  However it appears that this blog has not been registered in Technorati, which means that Technorati isn't currently able to rank this blog. Such ranking is based, it would appear, on parameters such as the  numbers of links to blogs and the authority of the blogs containing such links.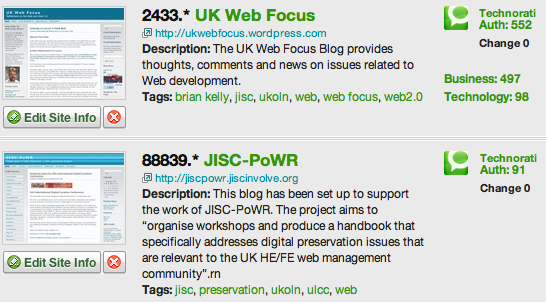 However my UK Web Focus blog was registered with Technorati shortly after it was launched in November 2006, as I described shortly after the launch. As can be seen from the accompanying screen image the blog has an authority of 552 (out of a maximum of 1,000). This appears to rank the blog as the 2,433th most highly ranked blog out of the 1,179,313 which Technorati seems to be aware of i.e. in the top 0.2% of all such blogs!  Further investigation reveals that the blog is ranked at number 98 of technology blogs and 497 of business blogs.
In addition to the UK Web Focus blog UKOLN's JISC PoWR (Preservation of Web Resources) blog is listed with an authority of 91, placing it in 88,839th place (i.e. in the top 10%).
Reading the Technorati Authority FAQ I find that:
Authority is calculated based on a site's linking behavior, categorization and other associated data over a short, finite period of time. A site's authority may rapidly rise and fall depending on what the blogosphere is discussing at the moment, and how often a site produces content being referenced by other sites.
The new Authority calculation differs from the past version, which measured linking behavior over a longer 6 month timeframe. Please note that links in blogrolls don't count towards Authority, as they are not indicative of interest in relevant content; we stopped including blogroll links in August 2008.
Authority is on a scale of 0-1000. 1000 is the highest possible authority.
Of course it is true that such statistics may be misleading: not all blogs will be registered; there may be technical difficulties in analysing the metrics; the metrics which determine the rankings do not appear to be well-documented; blogs will have a variety of purposes so simple rankings is likely to be inappropriate; etc. It also appears that these figures are quite volatile, with the numbers changing on a daily basis. Such volatility may be due to the constantly changing nature of the blogosphere, but cause also reflect problems with the Technorati service itself, which does not appear to be as reliable as it once was.
Despite such reservations, I feel that the ease of obtaining such statistics (once you have registered your 'blog claim' and allowed the data to be retrieved and analysed) means that Technorati provides a low-effort solution to the provision of blog metrics – and thus maximising the time which can be spent in doing productive work! And, of course, sometimes we may find that the Technorati metrics, which are based on the number of incoming links, may indeed have a positive correlation with the value of a blog – and since highly ranked blogs are likely to be more easily found in search engines (just as Google gives preference to highly linked-in Web pages generally) there can be advantages in seeking to enhance your Technorati ranking if maximising impact is one of your blog's purposes.