Posted by Marieke Guy on March 23rd, 2011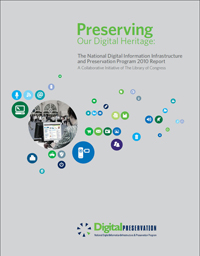 The Library of Congress has recently released the Preserving Our Digital Heritage: The National Digital Information Infrastructure and Preservation Program 2010 Report (NDIIPP) – available in PDF.

NDIIPP have now spent over a decade working to develop a national strategy to collect, preserve and make available significant digital content, especially information that is created in digital form only, for current and future generations.
The report documents the achievements of the Library of Congress and its NDIIPP partners working together to create sustainable long-term access to digital materials.
Since NDIIPP was founded in 2000 by an act of Congress, a network of over 185 partners in 44 states and 25 countries have developed a distributed technical infrastructure, preserved over 1400 at-risk collections, and have made strides to support a legal environment conducive to digital preservation.
The report describes a decade of action in digital preservation and outlays the short- and long-term plans to ensure libraries, archives and other heritage institutions in the United States can collect and provide long-term access to the resources of the 21st Century, and beyond.
The full press release is available from the NDIIP site.